As a collaborative network, the most important attributes of EPICo are the people and schemes represented. You can find out more about these participants and projects on this page.
EPICo would love to hear from you if you are involved in a project of this type not listed here. Please use the contact button below to get in touch.
Members

Discover more about the individuals who are currently involved in the EPICo network.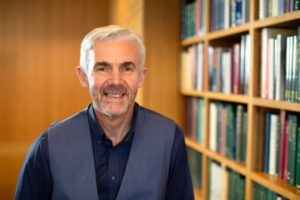 Andy Appleyard is Head of Operations (North) at the British Library (BL) with the responsibility for the following services - Document Delivery and ILL, Reading Room delivery, Digitization Services, Licensing Partnerships, Customer Services, the Public Lending Right (PLR) and the UK Research Reserve (UKRR).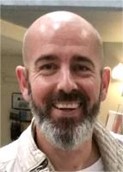 GEPA Library Facility Manager
He has been working in academic libraries since 2002 and has experience and academic studies in both librarianship and logistics. Since 2008 he is part of the Libraries, Information and Documentation area at CSUC, working as a facility manager and senior librarian. Member of the European EPICo workteam, he has presented the GEPA in several articles, books and national and international conferences.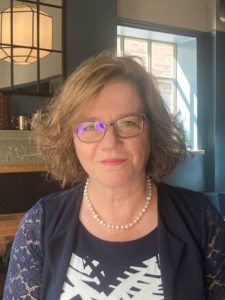 Chris Banks is Assistant Provost (Space) and Director of Library Services at Imperial College London. As former Head of UKRR she oversaw the final phase of the project and the transition to a national service delivered by the British Library.
Doctor in Sciences (Geology) with also a Master '60 in Management, I was, before 2001, Project manager in a research centre serving the extractive industry and Consultant for the EU in matter of good environmental practises in mines and quarries. Since 2001, I manage the Library and Learning center of sciences and technologies of the Université catholique de Louvain (Belgium). Since 2004, I'm strongly engaged in the Belgium Cooperation Programs for the development of universities in emerging countries, particularly in matter of libraries and access to documentary resources, with, to date, 49 missions in university libraries of Congo RDC, Niger, Laos PDR, Cambodia, Peru, Bolivia and Haiti. In 2014, also, I was appointed as Invited lecturer in my university for three courses in Library management, Bibliometrics, Information literacy skills and IT tools. And finally, for the consortium of the 6 French speaking universties of Belgium (BICfB), I manage the LibQUAL+ survey, the statistics of libraries and since, 2018, the shared print journal preservation project for which I become a member of EPICO.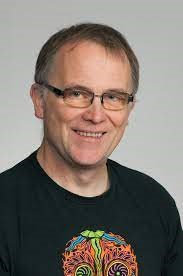 Jonny Edvardsen is Director at the Center for digitization of cultural heritage at the National Library of Norway.
Deputy Director of Hamburg State and University Library
Previous positions: 2012-2019 Senior Head of User Services and Advisor for Building and Construction at State and University Library Hamburg, 2010-2012 Librarian of the Departments of Language, Literature and Media at University of Hamburg, 2004-2010 Building Consultant at the University Library of Humboldt University Berlin.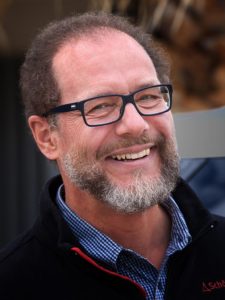 Born in Basel, Switzerland, in 1954, schools and university in Basel; PhD in German literature. Ulrich worked as Deputy Director at the City Library of Winterthur from 1991 to 1995, then Director of the Central and University Library Lucerne from 1995 to 2017. He retired in July 2017.
Since 1993 he has been teaching in various LIS courses, and he has published numerous articles in German and English journals and books.
He was active in several Swiss and international library networks and associations, among others in LIBER and in LIBER's Architecture Group, since 1996, chair from 2006 to 2016. He was a member of the Commission of the Swiss National Library from 2008 to 2015, and he acted as President of the Association of the Cooperative Storage Library Switzerland, from its founding in 2014 to 2017. Since 2017 he has had several mandates as consultant, working with libraries nationally and internationally to develop storage solutions. His interest in EPICo started when EPICo started in 2015, and he was the organizer of its Kuopio 6 conference in Basel in 2018.
Guillaume Niziers is director of the "Centre technique du livre de l'enseignement supérieur", the preservation repository of the collections of the academic institutions in Paris.
From 2011 to 2017, he used to work in the "bibliothèque interuniversitaire Cujas", the main academic law library in Paris, jointly operated by Panthéon-Sorbonne and Panthéon-Assas universities. He ended this period as deputy director and acting director.
He was project manager for the library during the foundation of Paris-Sorbonne University Abu Dhabi (United Arab Emirates) between 2006 and 2011.
Before, he used to work in the French national library ("Bibliothèque nationale de France") from 1995 to 2006, at first in the resources for cataloguing section where he was involved in the project of a new cataloguing application, then in the preservation department.
His first job was section head in Rennes 2 university library that he joined in 1990.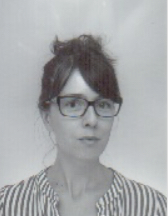 Ophélie Ramonatxo is Project Manager for a new preservation centre at the BnF with the responsibility for the following aspects – selection of documents that will be transferred to the new facility, coordination of the future building's programme, reassessment of the real estate strategy – amongst which the current remote storage centre of Bussy-Saint-Georges- in order to fund and improve the project.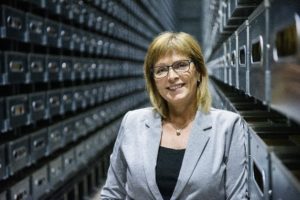 Helen Sakrihei is Head of the Repository Library at the National Library of Norway.
Deputy Director-General of the Bavarian State Library in Munich. She is a member of the IFLA Library Buildings and Equipment (LBE) Section Standing Committee and member of the IFLA Advisory Committee on Cultural Heritage. She has published several articles on library architecture and storage issues. She is co-editor of ABI-Technik, the leading German library journal on automation, library architecture and technology. Her professional interests apart from library architecture and design include library management, digital innovation, transformation processes and cultural heritage.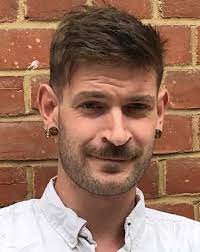 Theo Stubbs is the Digital Librarian at Leeds Arts University. From 2016 – 2020 he held various roles at Imperial College London, and this included working for the UKRR project during its final stages as a project before being taken on by the British Library. This work was primarily reporting and some research into the viability of an extension of the principles into monographs.
Pentti Vattulainen is a Finnish librarian who has long worked in the National Repository Library (NRL) of Finland, in fact 9435 days since 1992. Retired 2017. From the beginning of his work career in NRL Pentti has contributed to its development to be a leading international model of a functioning repository as a shared national storage facility and an interlibrary lending centre.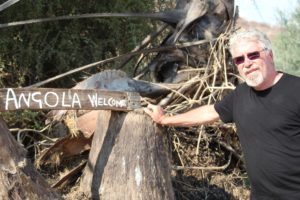 Pentti has written dozens of article on resource sharing and collection management in Finnish, Nordic and International journals. He has written a study on Performance of Interlending in Nordic Academic Libraries, 2003. He was the chief editor of the fifth edition of Handbook on the International Exchange of Publications, De Gruyter, Saur 2005. He is co-editor of Repositories for Print: strategies for access, preservation and democracy, De Gruyter, Saur 2018.
In IFLA he has been the chair if two committees: Acquisition and Collection Development (2007-2011) and Document Delivery and Resource Sharing (2013-2017).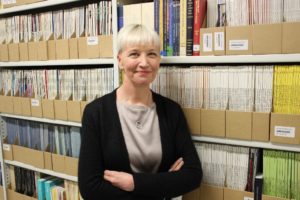 Johanna Vesterinen is the Library Director of National Repository Library (2017- ) and responsible for the NRLs' strategy, budget and action plan.
Director of Hamburg State and University Library since 2019 and spokesperson for the governing body of Speicherverbund Nord. 
Previous positions: 2010-2019 University Librarian in Rostock, 2003-2010 Head of Academic Services at the State Library in Berlin – Prussian Cultural Heritage.
Institutions

Starting with seven founders in 2015, EPICo now consists of these libraries and initiatives, all of which are at the forefront of collaborative collection management in Europe.
Website
https://www.bsb-muenchen.de/en/
E-Mail
coming soon
Description
As a treasure trove of cultural heritage, a multimedia information service provider for scholarly research and as an innovative force in the field of digital services, the Bayerische Staatsbibliothek is one of the prime national and international addresses for researchers, students and all those seeking information.
Founded in 1558 as the court library of the house of Wittelsbach, the Bayerische Staatsbibliothek is the largest academic universal library of Germany and one of the most important research libraries on a worldwide scale. The Bayerische Staatsbibliothek is also the central state library and repository library of the Free State of Bavaria. Its total collection amounts to around 34.5 million media units, among these approximately 11 million books, almost 54,000 current periodicals in electronic and printed form and 141,000 manuscripts. Every year approximately 120,000 volumes are added, which are selected and catalogued systematically according to scholarly criteria.
The Bavarian State Library arcives all of its holdings and manages several storage facilities for its various and vast collections, among them the modular and extensible storage facilities in Garching and Neufahrn.
Website
https://www.bnf.fr/fr/les-centres-techniques-de-conservation
Description
The future preservation site of the BnF
I. The origins of the project:
In 1995, the Bibliothèque François Mitterrand building opened, with a 400 linear kilometer capacity which seemed to last forever. However, the architect of the building, Mr Dominique Perrault, had predicted its saturation 20 years after and was unfortunately right.
In 2009, the BnF launched an extension project regarding its Bussy-Saint-Georges storage and preservation site, located outside Paris, associated to the idea of a dynamic collection management focused on demand but the project was not approved at the time due to the fact that the renovation of the historical Richelieu site had just started.
In 2017, the BnF presented a new project including this new site into a global reassessment  of its real estate strategy in order to cut its operating costs, downsize the number of its 12 sites but also to find funds for the construction and maintenance of the new site.
Quickly, this project was as well conceived as an opportunity to create new uses for the emptied storage areas among which offering better working spaces for employees and improving their welfare.
A new estate strategy, a new collection strategy: this could not work without a new strategy for internal activities among which those of the preservation department which had workshops located in almost every site of the BnF.
The decision was recently made to leave our two preservation sites of Bussy-Saint-Georges and Sablé-sur-Sarthe, located in the Pays de Loire Region, to the benefit of the new preservation facility which will shelter many of their activities.
Speaking of preservation, an internal study was led focusing on newspapers collections and concluding to the necessity of building a national newspaper conservatory in the heart of the future preservation centre.
II. The work in progress and the main features expected for this future building:
Regarding technical needs for the future building, benchmarking was essential.
We started with British Library, visiting its Boston Spa site and keeping in mind, amongst other things, the idea of an automated storage building dedicated to newspapers and the idea of sending huge proportions of collections – as well as staff - to the remote storage site.
Our second visit was to the cooperative preservation centre of Büron in Switzerland where we learned many things about the interest of a "passive climate" building, of a skilled staff and of a consultation room.
We studied as well the Canadian projects at Library and Archives of Canada, where it was decided to gather all preservation activities under one roof and which associates an ambitious estate strategy to their preservation site project as well.
The KB project in the Netherlands is also most interesting with the entire collection stored in a distant building and a high level and experimental research initiative about indoor climate conditions in the storage areas.
In 2020, we froze the main features of our future remote storage building:
15.000m2 of land area
354 linear kilometers of collections amongst which our whole newspaper collections i.e 80 linear kms in good preservation conditions.
10.000m2 collection storage amongst which 6.000 of automated storage
100 staff working above all on newspapers preservation and digitization.
A "green" and passive building
A small reading room
Available land in the vicinity for future extensions
An optional capacity to house cultural activities
We estimated the construction budget to 90 Million euros investment
The last definition step consisted in finding the best geographical location for this new and major building.
Last year the BnF launched a call for expressions of interest on its website and in the press in order to receive proposals from local authorities such as city councils who would volunteer to host our new storage site.
To compete, the cities had to propose a hazard free piece of land, compatible with technical features I presented before, accessible in two hours by train and three hours by car from Paris, and close to a urban zone with shops and services.
Another major condition was the capacity to contribute financially to the project funding.
In October 2020 we received more than 70 applications, short-listed to 10 then 5 of them.
We are currently finalizing negotiations in order to hopefully announce the location of our future site in October 2021.
III. The next steps to go through
At the same time as we were finalizing this selection, we recruited a programming consultant in order to convert our needs into building specifications which will then enable the future architect to design the building.
This phase will end in May 2022, after which we'll be able to proceed to the next steps such as the design work until 2024 then the construction works between 2025 and 2027 until the opening in 2028.
We are also working on the preparation and moves of collections, particularly for newspaper collections starting with a core collection we would like to have ready for the opening.
Without planning to move our cataloguing and legal deposit units from the Parisian sites, we are also experimenting new processes in order to easily identify collections we'll directly send to the remote storage centre just after having cataloguing them.
For the next step of programming we'll work on 4 main fields associating the BnF teams :
Storage, particulary automated storage and inner climate conditions,
Preservation and organization of this activity on the future site and links with the Parisian sites.
Logistics inside the future building but also between sites and inside our current sites
Other technical needs and spaces to plan in the future building
We still have a lot of questions regarding our future organization and how this will embrace this additional building which may well need an organization of its own.
We have questions around several organizational subjects among which the cartography of services, the idea of stopping scattering around activities for instead linking one specific activity to one particular site.
We are also wondering how the sites will work and interact together, how the teams will circulate from one to another and how the future site organization will be compatible with the library current organization.
This leads to the same question about governance as the BnF do not have a strong site management preferring a matrix management. But that can be questioned when it comes to a geographically remote building with productivity goals and public service commitments of its own.
Website
https://www.bl.uk/ukrr
Description
The UK Research Reserve, what is it?
In 2007 it became apparent that library storage space in UK academic libraries was becoming an urgent priority. In response, the idea to de-duplicate low use print journals based on a collaborative approach between UK Academic Libraries and the British Library was developed. The UKRR pilot was launched to explore the feasibility of:
Preservation via a shared national collection to secure the long term storage, retention and availability of low use printed journals - UKRR aimed at that time to identify the last three copies of a print journal within the community and retain them as part of the UK's infrastructure.
Access by utilising the British Library's On Demand/Document Supply Service which could provide access to the shared national collection within a 24 hour service level agreement.
The pilot indicated an opportunity to make significant improvements and cost savings, therefore a formal project was formed running from February 2009 to January 2017 with 29 university library members - this was further extended due to its popularity to March 2019 with a further 6 members. The BL team managed the 'scarcity' process ensuring there were always three copies of a journal within the acadmeic community by using the national holdings database, formerly Suncat now the National Bibliographic Knowledgebase (NBK).
The project formally ceased in March 2019 at which point it had over its lifetime delivered £29m in capital savings, and over £18m in recurring estate management costs. This equates to around a £4 return on investment for every £1 spent in value to the Higher Education sector. The project has freed up an impressive 128 km of shelf space in the participating libraries. Case studies are available online at www.bl.uk/ukrr.
The UKRR initiative provides an example of the British Library's unique leadership role and its ability to work across sectors, bringing together multiple stakeholders around common objectives of preserving and maximising the value of print collections, releasing spaces for innovative use in the service of research and study, and at the same time delivering substantial efficiencies. Working collaboratively as a 'library community' helps leverage efficiencies at scale, one of which is the BL's expertise in developing high density, automated, low oxygen storage facilities. The BL has commenced building the third automated storage at its northern campus aiming for completion in 2025.
Website
https://www.ctles.fr/
Description
Established in 1994, The Centre technique du livre de l'enseignement supérieur (CTLes) is a State facility under the supervision of the French Ministry of Higher Education.
The CTLes is a depository for low-use higher-education and research library print collections in the Paris metropolitan area. The facility offers proper safekeeping and preservation conditions.  The libraries can either transfer ownership on the collections to the CTLes, or remain owners of their collections and rent spaces in CTLes closed stacks.
A daily CTLes shuttle delivers requested documents to Paris libraries. Alternatively, interlibrary loans are provided by postal service.
The CTLes can also offer temporary space to libraries facing refurbishment works or disasters. In that case, no document delivery service is provided.
In addition to this first mission, the CTLes has a leading role in the cooperative preservation management of journals collections in higher education institutions. It provides support to the growing number of cooperative preservation programs.
Website
coming soon
Description
The shared print journal preservation project (called CPP for "Conservation partagée des périodiques") is a joint initiative of the six French speaking universities of Belgium gathered in the BICfB Consortium (for "Bibliothèque interuniversitaire de la Communauté française de Belgique").  The goals of the CPP are to consolidate collections of journals and discard surpluses in our libraries in order to keep only one complete (and thus shared) collection of each journal in printed form and, eventually, a second collection if there is no sustainable electronic alternative or not the same collection at the National Library of Belgium (KBR).
Under a single coordination, 5 working groups - made up of 3-4 librarians from the different universities - were organised by discipline to compare journal collections, organise their grouping in one of the university libraries, update catalogues, etc.: general bibliography, economy, health sciences, sciences and technologies, veterinary sciences.  The next group will work on psychology and educational sciences.  By the end of 2020, decisions had been taken for 1,298 titles and transfers for physical consolidation were largely achieved.  After transfer, each hosting institution undertakes to keep the collection in its care for a minimum period of 10 years, after which it may or may not request a renegotiation.
Our main challenge for the future is to find colleagues in our libraries who have the time, energy and motivation to continue this work with the current CPP teams.
Website
https://www.csuc.cat/en/serveis/magatzem-cooperatiu-gepa
Description
The GEPA facility is a cooperative repository provided for the Consortium of Academic Services of Catalonia, CSUC. It is a service for storing and conserving low-use print documents, guaranteeing their future preservation and accessibility. It has more than 3,600 square feet for storage, placed in a privileged location on the Gardeny hill in the city of Lleida (Catalonia, 130 km away from Barcelona), where years ago there was a military barracks.
The facility is open to all CSUC libraries, plus others that are previously approved by management bodies (Universities in Catalonia and the Government of Catalonia). Documents that can be stored in the GEPA are non-fundamental documents for the institutions that own them, duplicate copies, unused or rarely used materials and, in general, documents that we believe that someday will be useful, or that a copy must be preserved.
The GEPA objectives are:
Promoting the release of space in libraries so that they can be spent for new uses for users (workrooms, meeting rooms, etc.).
Contributing to the cooperative and efficient management of library collections.
Providing environmental and safety conditions for the storage of documents.
Once deposited in the cooperative warehouse, bibliographic evidence of the collections is provided through the local or the collective catalogues. Requests for the original document or copies can be made from the GEPA and at the participating libraries and are processed within 24 hours. Users, students, researchers, faculty members can request copies or even access the originals in the GEPA reading room.
In addition to depositing documents, at GEPA there areas for workrooms, reading rooms, digitization spaces, meeting rooms and offices.
Website
https://bibliotekutvikling.no/depotbiblioteket/
Description
The Repository Library in Norway
The Norwegian Repository library (RL) is a part of the National Library of Norway (NLN).
NLN is an integrated part of the Norwegian Library landscape, performing important services for all libraries:
The main node in the interlending network
Central mass storage which includes low use publications
Secures the "last ILL copy" in Norway
Main point for digitization of Norwegian books
Norwegian International Standard Identifier for Libraries and Related Organisation (ISIL) agency
The RL is the main supplier of print copies to public and academic libraries in Norway. Since 1990 Norwegian academic and public libraries have transferred parts of their collections to the RL. Currently the collection consists of 1 500 000 monographs and 600 000 issues of periodicals. The RL holds up to five copies of Norwegian monographs.
The RL makes it possible for Norwegian libraries to save storage space, because they are free to weed out from their collections publications that are already stored in the RL.
The Repository Library is also responsible for The Multilingual Library, a library collection with publications   in more than 60 different languages. The target group for this collection is asylum seekers, refugees and immigrants.
The repository collection is stored in an automated storage facility. The handling of the ILL-requests is an almost fully automatic process. This enables the RL to ship most requests within 24 hours.
The interlending network in Norway is functioning quite well. Nearly all libraries participate, including both public and academic libraries. The network facilitates use of all library material regardless of library. A patron is able to get hold of most of the material either as a physical item, as a digital file via e-mail, or as a browsable digital copy accessible in the reading room of the local library.
Digitization at the NLN
In 2006 the National Library decided that most of the collections should be digitized. Since then, millions of pages have been scanned, OCR-treated and made available online. The access to the material is according to the legal status: if the publication is in public domain, everyone will get access. For some of the in-copyright material, the rightsholders has granted us permission to give access on-line. For some publications you need to have a Norwegian IP-address, and other publications is just accessible in libraries or on-site at the NLN. Special conditions apply to researchers.
Currently the digital collection consists of 570 000 books, 3,4 million newspaper issues, 1,5 million photographs and a lot of other material.
To search in the digital collection, use:
Website
https://varastokirjasto.fi/en/
Description
The National Repository Library (NRL) was founded in 1989. It is a government agency operating under the mandate of the Ministry of Education and Culture and funded by the State Budget. The goals and the operation of the library are defined by the National Repository Library Act (1988) and -Degree (1992).
The NRL is a resource shared by all Finnish libraries and information service centres. The main tasks of the National Repository Library are 1) to receive, 2) store and 3) offer material for the use of other libraries. All the library services are free of charge for the users ie. libraries.
Around 2 300 - including 650 foreign - libraries use the services of NRL: scientific (university & applied science), special, public and company libraries. The ground idea is to promote inter‐library co‐operation by arranging a national storage and interlending centre for less used library material.
The collections
The NRL collections include monographs and periodicals as well as series in all languages and in all fields: fiction and non-fiction, dissertations and books in Braille. The materials are organised in 'numerus currens' sequences (according to the date of arrival).
Library collections include almost three million catalogued items. NRL receives material from all libraries and information service centres in Finland.
Statistics (7/2021)
• Loanable materials 103 shelf kilometres
• Monographs app. 1 879 500 items
• Periodicals app. 117 560 titles
• LP's, CD's and note releases app. 46 000 titles
Website
Speicherverbund Nord
Description
A Regional Print Archiving Cooperative in Northern Germany
Partner Libraries of Speicherverbund Nord are seven libraries in five federal states:
• State and University Library Bremen
• State and University Library Hamburg
• University Library Kiel
• University Library Rostock
• TIB . Leibniz Information Centre of Science and Technology and University Library Hannover (German National Library of Science and Technology)
• MIZ Lüneburg
• ZBW – Leibniz Information Centre for Economics Hamburg / Kiel
Goals of Speicherverbund Nord are
• a pragmatic "keep it simple" approach to shared archiving of print journals
• to achieve tangible results through sharing of existing resources and a collaborative process based on voluntary commitments
• to secure long term access to relevant print publications and reduced pressure on shelving space
• to make archiving commitments visible and transparent in national/regional union catalogues (ZDB, GVK, K10plus)
All activities are coordinated by the cooperation's office based at State and University Library Hamburg.